The Laserfiche Cloud October update, released on October 8, 2021, includes the following new features.
Watch an overview of the new features here: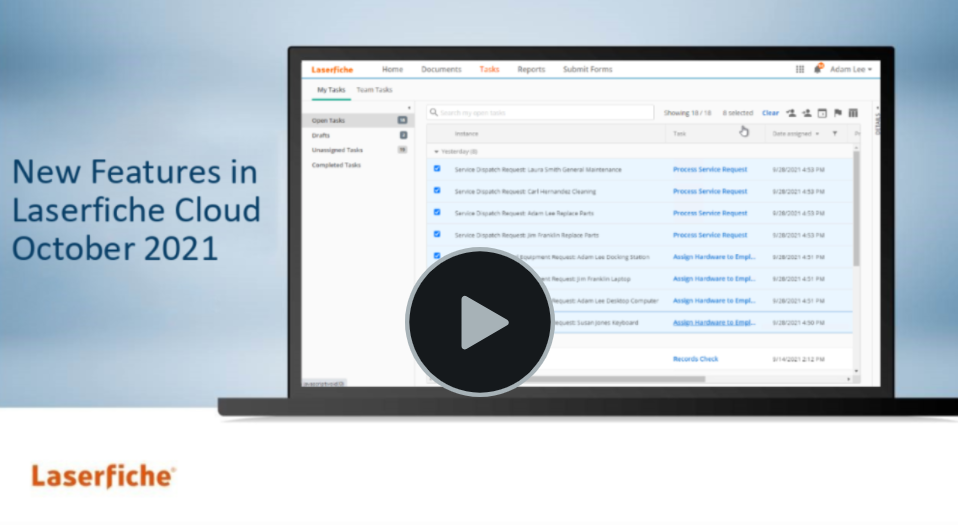 Process Automation
Task Inbox Bulk Actions
Select multiple tasks from the inbox to approve or reject the tasks in one action. Click the "Direct Approval" button to open the dialog for bulk approval or rejection of tasks. Tasks will be grouped by process, so that you can easily see how many tasks are selected and eligible for each process.
Business Process Timer Event Enhancements
Timer events now support work schedules, allowing a timer event to automatically start only on work days. You can make adjustments for when a repetition lands on a non-working day according to the work schedule selected in the process properties.
Documents
PDF Page Generation Options
In the web client, you can now specify what type of PDF you're importing when generating pages. This allows you to optimize page generation for the best balance of quality and size depending on the contents of the original document: black and white text document, standard colour document, or high-quality colour document. You can specify the type of the original PDF at the time of import, and you can also set a default document type in Options.
Laserfiche API
OAuth 2.0 Support for Laserfiche API: Develop more robust connections with third-party apps via support for the industry standard OAuth authorisation protocol.