Confidential Destruction.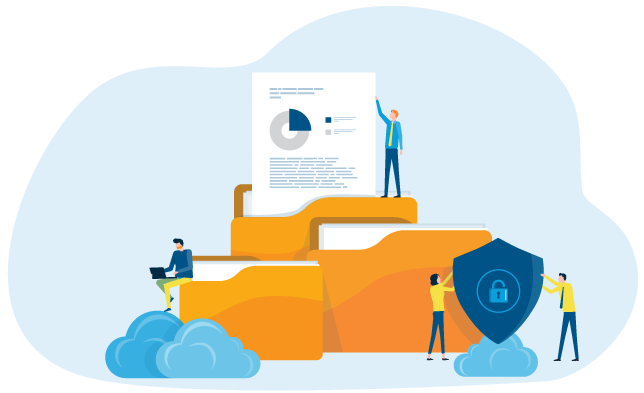 Do not neglect the security aspect of looking after confidential data.
Ascentas control the entire destruction process and can help you establish a secure, comprehensive, cost effective and, more importantly, a compliant information destruction solution.
From collection of documents through to confidential destruction, our Secure Confidential Destruction Solutions ensures the confidential destruction of your paper, media, disks, tapes and CDs.
Secure Collection
Choose from locked containers, paper sacks or having your boxes picked up directly from your office for confidential destruction.
Frequency
On a schedule or as-needed basis, uniformed screened and fully insured Ascentas personnel will collect your material for destruction.
Recyclable
After destruction and where possible, waste material is baled and sent for recycling.
Confidential Destruction
The Confidential Destruction Process
An Ascentas Destruction Solution starts with your needs. Whether you require a customised scheduled shredding bin pickup and rotation service to a yearly ad-hoc shredding process, Ascentas has the capability to handle document destruction on the schedule and in the manner that works best for you.
We are the UK's first fully cloud based document management and scanning company leveraging the power and capabilities of the Microsoft Azure Network and provide a 300% quality check of all scanned images by our index and QC staff.
Documents from your offices, offsite storage facilities or from third party storage providers can be collected and digitised saving you time and money in recurring storage and retrieval costs.
Bin Rotation
Ascentas will place secure, heavy duty paper shredding containers in the locations of choice within your organisation. We will work with you and your team to ensure that your employees are familiar with the shredding process. Initial delivery through to ongoing bin rotation and pickup will be discussed with you to ensure your needs are met.
Things couldn't be simpler:

Your staff dispose of confidential material in the bins provided by Ascentas.
Your Shredding Bins are picked up according to your specific needs on a regular basis.
We exchange your Full bins for empty ones.
You remain compliant and your company data is securely shredded.
Ad-Hoc Shredding
If the volume of your daily business documents does not warrant a scheduled document shredding rotation, we can schedule a one-time pickup and destruction for business or personal documents.
You may be moving offices and clearing out documentation no longer needed, perhaps you purge & destroy archived documents at the end of each year or you are moving house and realise the volume of confidential paperwork you have collected over the years is too much to deal with yourself.
Secure IT Asset Destruction
Dispose of hard drives, disks, flash drives and computers securely and compliantly. As with all our secure shredding services, you receive Certificate of Media Destruction for your own records.
Secure IT Asset Destruction
Failure to properly dispose of IT equipment can have serious consequences for your data, the environment, and your brand reputation. Go the extra step with your IT asset disposition program and ensure security and sustainability with a program that includes recycling and compliant destruction of retired IT assets.
Shredding Security
Security is still as important to Ascentas when it comes to your shredding material. Your confidential material is transported in locked containers and remains locked until they arrive at an Ascentas Centre. Once they arrive at the Centre, they are immediately co-mingled with millions of other documents ready for destruction.
Certificate of Destruction
Regardless of how big your company is, it is imperative that you obtain a certificate of destruction after having your confidential data securely destroyed. All the work that is undertaken by Ascentas is done in a secure and effective manner by our team of experienced shredding experts.
At the end of the Shredding Process, everything which is shredded by Ascentas is sent to a paper mill where it is pulped before being shipped to Europe as part of the recycling process. It will soon return to the UK in the form of toilet paper or new copier paper.
Recycling our clients securely destroyed documents is our way of giving back to the world which we occupy.
Off-site Shredding
Designed to offer you a simple and reliable document destruction solution for your company's confidential information.
One Time Shredding
Need a one-off paper shredding service to help clear out your office or home? Ensure your old documents are securely shredded.
Regular Shredding Service
Stay compliant with a regular ongoing secure paper shredding services with one of our serviceable Shredding Bins.
Hard Drive Destruction
Dispose of documents, data & hard drives securely and compliantly. Don't let data fall into the wrong hands.
WEEE Disposal
Go the extra step with your IT asset disposition program and ensure security and sustainability with a program that includes recycling and compliant destruction of retired IT assets.
IT Asset Destruction
Don't let your organisation's data fall into the wrong hands. Ensure you have a compliant IT Asset Destruction policy in place to protect your company reputation and image.
Contact us today for more info on Secure Document Destruction .