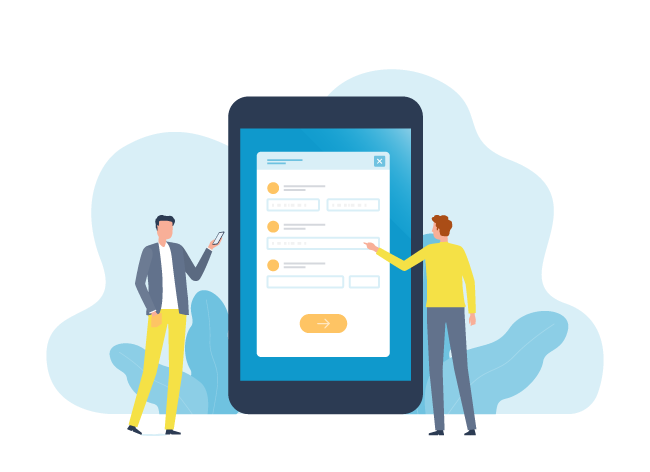 Create, Edit and Sign Contracts Fast
Although the contract is an essential part of business, spending hours of valuable time to complete this process on paper is not.
From insurance policies to vendor agreements, contracts take many forms. They establish partnership and accountability between parties and often require considerable negotiation before being finalised. The time it takes to approve a contract can be as significant as the content of the contract itself, and slow, manual contract processing reflects negatively on an organisation's ability to provide excellent service.
Digitise
A meticulous process expertly managed.
From scanning hard copy contracts into an electronic format or hosting all your electronic documents in a secure environment, Ascentas can help.
Define the project scope, receive a detailed implementation schedule, and delivery plan so you have a clear understanding of your project from start to finish.
Ascentas have been actively managing millions of images for their digital storage clients for over 30 years and were the UK's first fully cloud based document management and scanning company.
Collaborate
View, edit, sign and approve contracts from anywhere
From contract draft, review and delivery, automate the entire contract process from one secure location.
Automatically extract data from electronic, PDF and scanned forms, eliminating the need for manual indexing, sorting and filing.
Eliminate paper with client e-forms submissions and processing with modern web forms that simplify creation and data collection.
Search
Respond to every contract request
Immediately find information to answer inquiries at any stage in the contract process.
Automatically run searches for contracts that are missing signatures and other information. Instantly locate any client's complete, most up-to-date paperwork using multiple search options.
Centralise and Organise Content
Maintain a source of truth by organising and managing content in one intuitive platform, where employees can easily find files, keep track of versions, collaborate and share content links.
Automate
No-Code Process Automation
Take on everyday business challenges with a drag-and-drop, low-code/no-code process automation platform that allows you to deploy solutions quickly, without the need for additional IT resources.
Accelerate Digital Transformation
Teams are always looking to boost productivity. Low-code/no-code process automation lets teams adapt to changing needs and realise digital transformation faster.
Robotic Process Automation (RPA)
Train software bots to automate and speed up time-consuming, repetitive tasks. Extract metadata and searchable text from scanned documents and invoices with Smart Content Capture.
Compliance
Compliance and Risk Management
A solution that provides records management tools to support your regulatory compliance and maintains a set of industry standard compliance certifications and attestations such as SOC 2 Type 2 Plus, HIPAA, VPATs, DoD 5015.2, ISO27001 and VERS v2.
Assign security restrictions so that employees can only access the files they require to do their jobs. Protect sensitive documents and track when users open, edit, delete or even attempt to open case files.
Streamline Content Lifecycles
From records creation to final disposition, promote compliance across all stages of your content with extensive records management tools to auto-set retention schedules, generate reports and manage dispositions.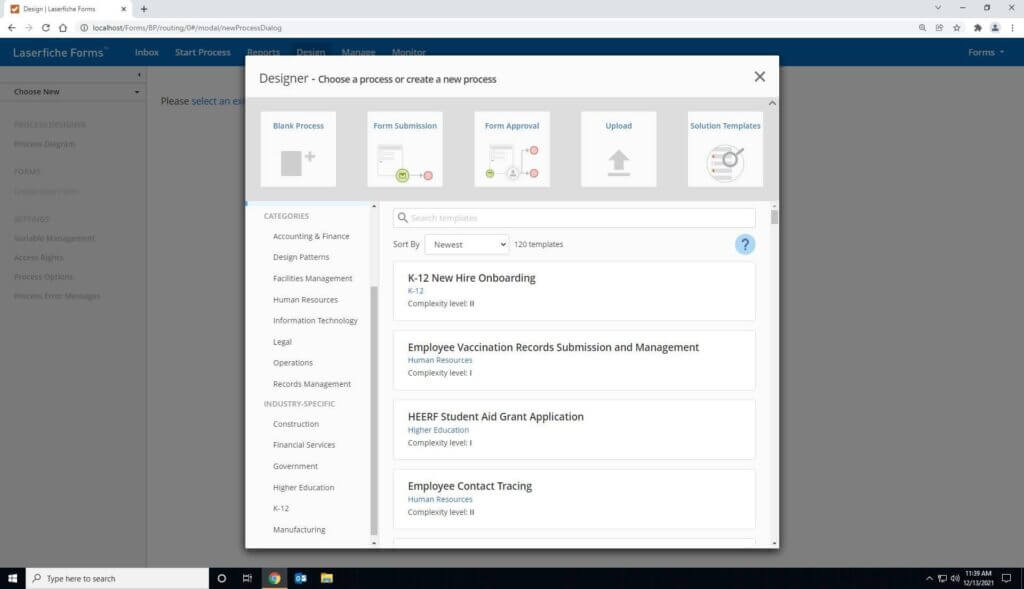 Fast-Track Contract Creation
Use prebuilt workflows and document templates to jumpstart automation of your contract management processes. Use robust version control features to track contract edits and to ensure all parties are on the same page when it comes time to sign.
Approve Contracts from Anywhere
Enable teams to review, edit and sign contracts from wherever they are to keep contracts on track to be approved. Secure file sharing tools make it easy to share contracts with clients or customers while ensuring sensitive information is protected.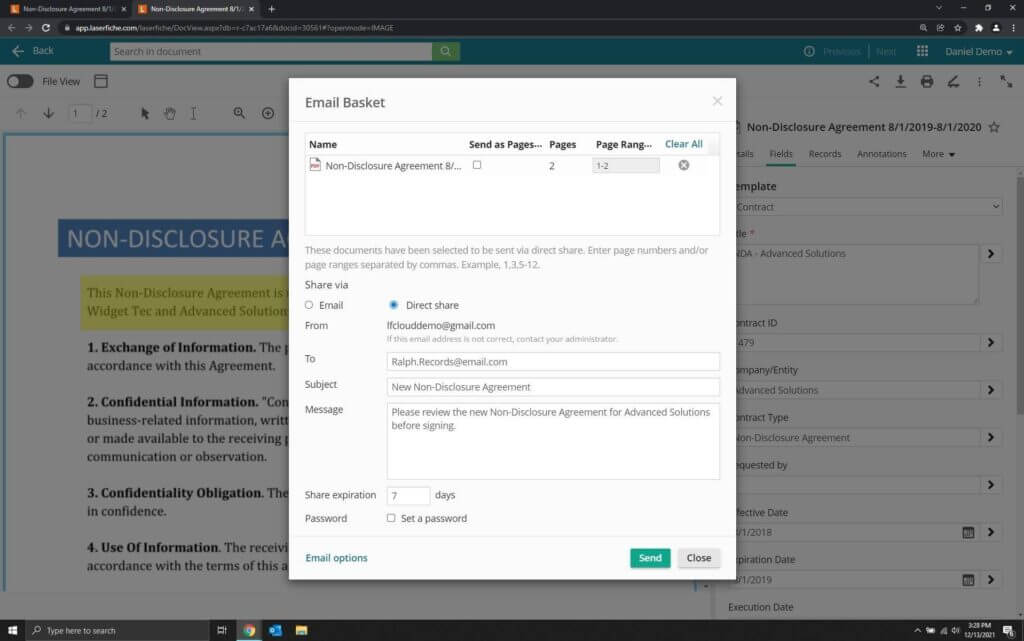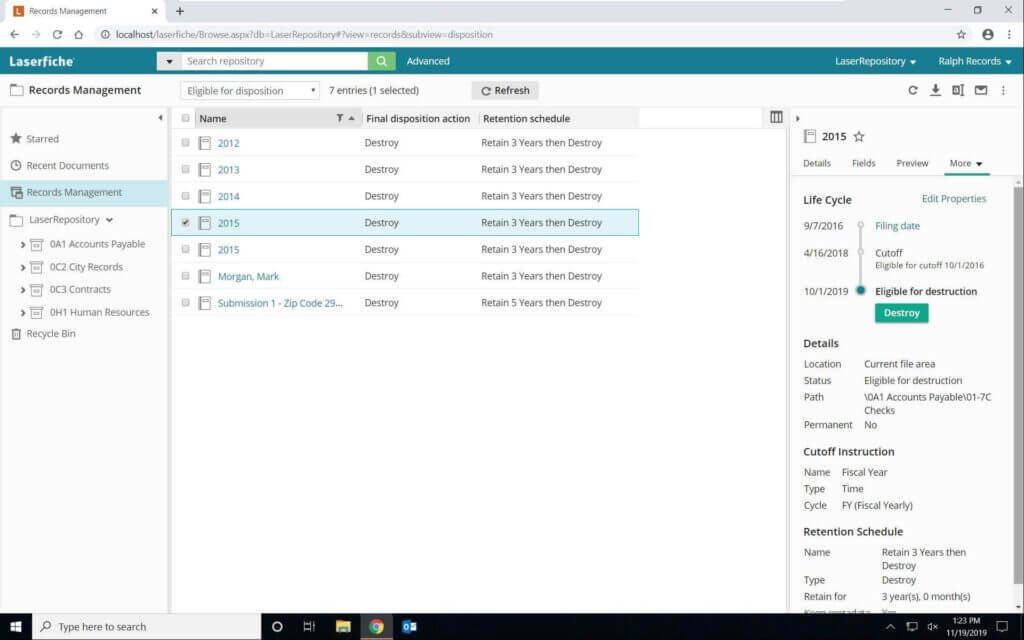 Enhance Recordkeeping Capabilities
Quickly fulfil requests for information by tagging appropriate contracts with metadata for effective search and retrieval. Help ensure compliance with records management tools that remind staff when it's time to archive or dispose of contracts.
New Contracts
Create and fill out new contracts quickly using custom forms or prebuilt templates from the Laserfiche Solution Marketplace.
Information Requests
Implement records management best practices with tools to make it easy to keep track of where contracts are in their lifecycle.
Digital Signatures
Support transparent, auditable reporting using a centralised repository with a full set of records management features.